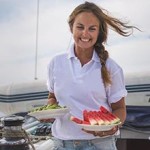 If you really want to lay back and chill without the hassel of doing the shopping, cooking and washing-up afterwards, why not take advantage of our hostess service.
Your hostess will make up the beds at the beginning of the trip, she will do all the shopping, prepare all breakfasts, all lunches and 2 dinners during the week.
She will do the washing-up and keep the kitchen tidy.
Please note: the hostess doesn't make beds during the week, clean bathrooms or individual cabins, clean the outside of the boat or babysit the kids! Remember, she will need a berth to sleep.